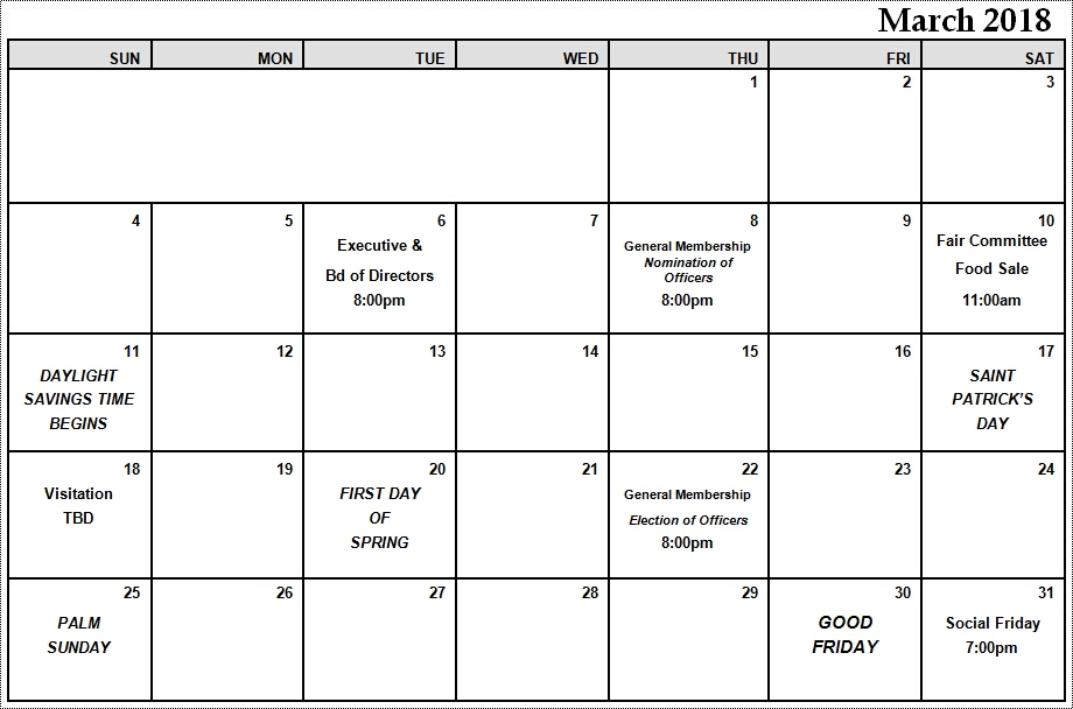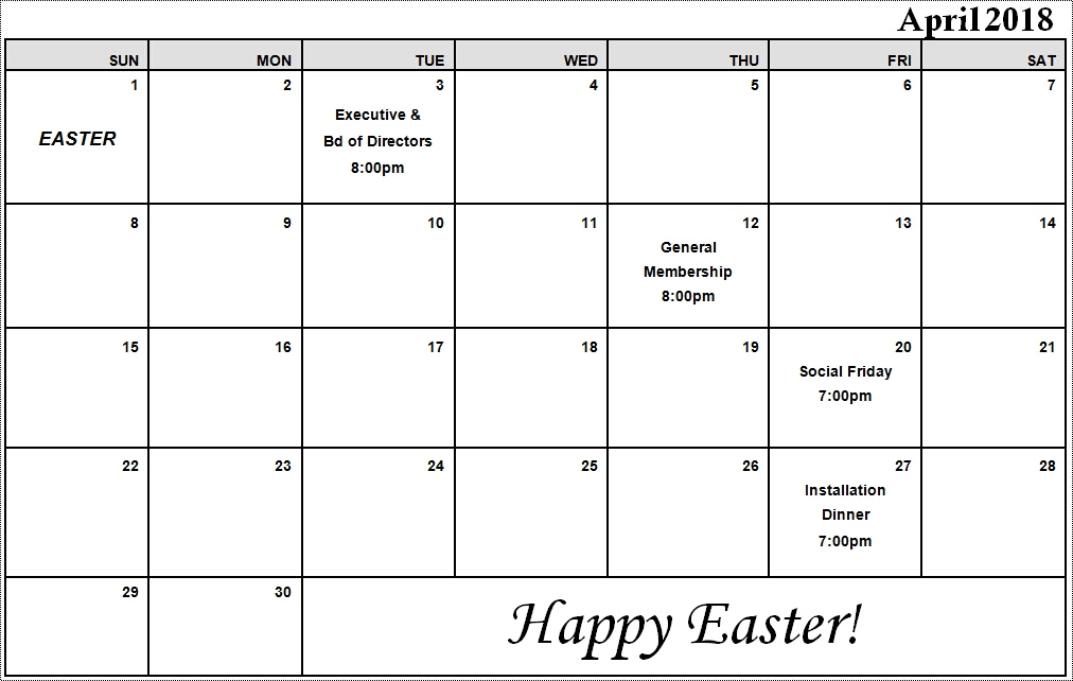 We had a great turn-out for 'Recordar Es Vivir'. Many thanks to those who joined us, the Committee members and the other volunteers who helped out that evening.
The Fair Committee is sponsoring a Food Fair on Saturday, March 10th, beginning at 11:00am in the club room. Food and monetary donations will be gratefully accepted that day, beginning at 9:00am. Please see the Flyers webpage.
The next general membership meeting will take place on Thursday, March 8th at 8:00pm, where the nomination of officers will take place. Elections will take place Thursday, March 22nd. To be eligible for the special raffle of a ticket to the Installation Dinner, members must attend the Nominations meeting. To be eligible to win, the winner must be present at the Elections meeting. Regardless, your presence at these meetings is very important. Please plan to attend.
March's 'Social Friday' will take place on Saturday, the 31st at 7:00pm.
The Installation of Officers Dinner and Dance is scheduled for Friday, April 27th at Maestro's. Tickets are $60 for members, $80 for non-members. Due to space issues, we will only be able to accommodate the first 100 people who have paid. Deadline for payment is April 12th. Please see the Flyers webpage for the details.
Applications for the Tony Mondesire Scholarship are now available. Applications are being distributed to member households with students of higher education. The forms will be available in room 16 of Dreiser Loop Center at any of our monthly meetings, either the 2nd Thursday of every month or at the Board of Directors meetings on the 1st Tuesday of each month. Applicants must be at least 18 years of age and residents of the Bronx. Students must carry a minimum of 12 credits per semester at an accredited institution for at least one year. Applications must be returned by May 10th, either by mail, or to a member of the Scholarship Board of Trustees.
Coming up: 'El Batey' Picnic on Sunday, July 22nd. Requests for permits are now being accepted. Each permit is $5.
We welcome Gloria M. Bobyn, Paula Calderon, Debbie Fernandez, Judy & Rufino Garay, Connie Garcia Limas, Francis & Reyes Ramos, Alex & Domingo Soto and George & Vivian Vasquez, to our club family!
Annual membership renewal dues are now past due and subject to a penalty. The penalty fee is $48 for the year ($4 a month).
** We are very grateful to the Committees and the many volunteers who work tirelessly to make our events successful!
Please keep your membership information up-to-date! Let us know of any address and/or phone number updates.
Use our email address: SpanAmCCCC@gmail.com
** To receive this newsletter via email, please contact us at our email address.
Your email address will only be used for club-related notifications.
Visit us on Facebook! Search for 'spanamcccc'.